All bodies are good bodies!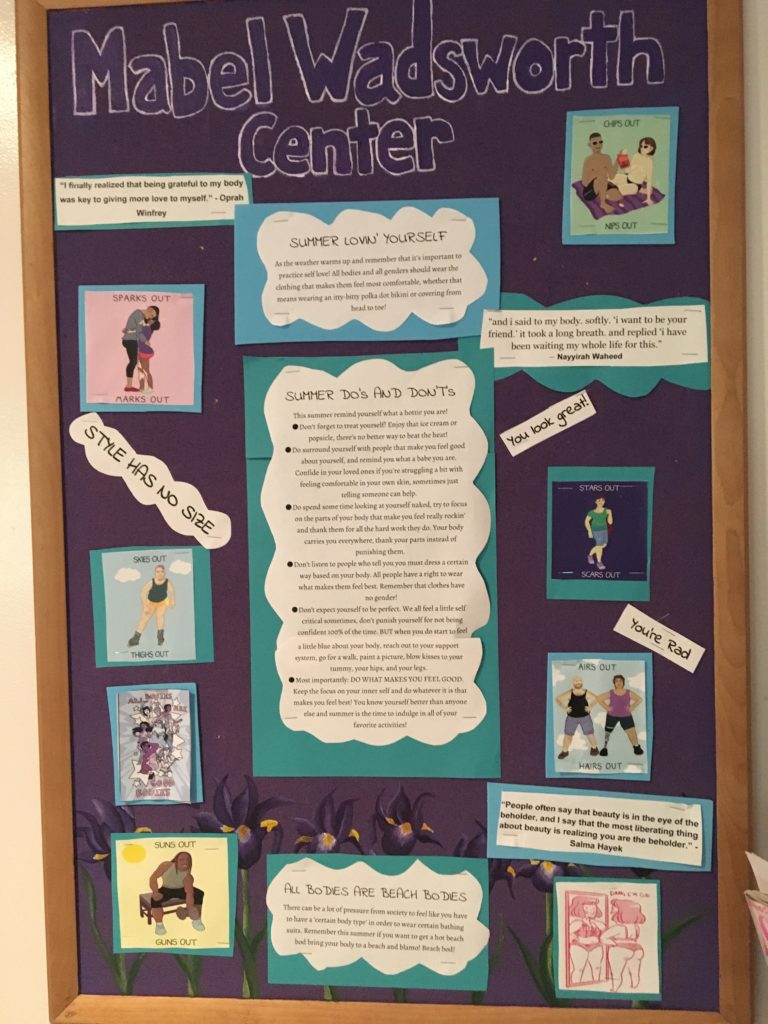 At Mabel Wadsworth Center, our interns are responsible for updating the bulletin board in our waiting room once a month. Past topics have included healthy relationships, safer sex, abortion stories and more. In case you don't have the chance to visit us during the month of July, we've decided to put the bulletin board online this month as well. Enjoy this post by our summer intern, Olivia Pennington, a Sociology student at the University of Maine.
We at Mabel Wadsworth are so excited for warmer weather, beach days, and enjoying the beautiful Maine outdoors. As the weather warms up and we start being able to unbundle from our winter layers, we want to remind you that summer means wearing whatever makes you most comfortable. There is no pressure to find a bathing suit or a sundress or a crop top that "suits your body type." You are allowed to wear the clothing that makes you feel great. People of all genders and of all sizes should feel comfortable wearing the clothes that they wish.
You deserve to have an excellent summer, and that starts with feeling excellent! However, we understand that it isn't always easy to stay positive and sometimes you need a little help. That's why we have devised a list of summer do's and don'ts to help you stay feeling your very best.
For starters, do make sure you enjoy all the treats that you want to! There's no better way to cool down after a hot day in the sun than with an ice cream cone or a popsicle. Make sure you treat yourself! Summer is about indulging and being happy, so if that mint chocolate chip cone with sprinkles on top makes you happy then go for it!
Secondly, do choose to spend your time with people that make you feel good about yourself.  Your friends should be your support group, they should lift you up not tear you down. Confide in your support group when you're feeling a little down, sometimes it can be really helpful just to tell someone how you're feeling, and they may know just the way to lift you back up!
Don't listen to the people that make unnecessary comments about your body. If a friend or family member is telling you something that makes you feel less than superb remember that it is your body and you have the right to present it however you want. Remember that clothing has no gender and style has no size.
Don't expect yourself to be perfect. We all feel a little self-critical at times and that's okay. The important thing is what you do when you feel down. Maybe try to focus on something you love doing like painting, drawing, going for a walk, singing your favorite songs in the car, or eating an ice cream! Confide in your support group, let them know how you're feeling, you don't have to carry that burden alone. Make a list of things you love about yourself, both about your physical appearance and your personality.
Do spend a little time naked. Try to notice and appreciate every part of your body that makes you feel awesome. Try to thank your body for all the hard work it does! Notice the way your hips move, notice the strength in your legs, notice the little freckles, stretch marks, or scars.  There is no pressure to all of a sudden love all of your parts or little marks, but the more you spend time with your own body the more you will be comfortable with it. Try talking to your body the way you would talk to your best friend.
Above all else, do whatever it is that makes you feel good. Wear the clothes that you like, eat the food that you like, dance the way you want to, give yourself permission to feel comfortable in your own body. Remember that your body is a good body and you are allowed to show it off or cover it up however makes you feel best! Your health is important to us, and that starts with ensuring that you are feeling your very best and nourishing yourself with the self-love you deserve. Befriend your own body and give yourself the best summer yet. This summer let's celebrate ourselves and those around us: all bodies are good bodies!