Health Care Providers
Bonnie Case, FNP-C, Director of Clinical Services (she/her/hers)
Bonnie started serving as the center's Director of Clinical Services in 2019. She comes to Mabel Wadsworth with more than six years of primary care experience. She previously worked at Penobscot Community Health Care in the Bangor area providing the full spectrum of preventive healthcare as well as chronic and acute illness management. She received her master's in nursing from Massachusetts General Hospital Institute for Health Professions in 2013. Prior to that, she worked as a nurse in homeless shelters and a federal prison in the Boston, Massachusetts area. Bonnie oversees the clinic team, ensuring that staff is supported in their delivery of client-centered, exceptional health care. Additionally, Bonnie sees a small panel of primary care clients at the Center. Bonnie is passionate about reproductive justice, health care access, and affirmative health care with a focus on bodily autonomy.
MaryAlice Walker, FNP-C (she/her/hers)
MaryAlice grew up in Falmouth and received her master's in nursing from the University of Southern Maine in 2015. She joined Mabel's in 2019 with experience in both sexual and reproductive healthcare and primary care, most recently at Hope Health Family Practice in Camden. She is passionate about providing individualized care and honest education in an open and caring environment, so her patients can make informed health choices and further their life goals. Outside of work, she enjoys spending time with her wife and daughter, swimming in Maine's lakes, and dancing flamenco.
Naea Westwood-Perkins, M.Ed, LCPC (she/her/hers)
Naea has been working as a counselor for over four years with children, families, couples, and adults. She has specialized training and experience working with people who have experienced trauma to help them heal the pain from their past and improve their lives. Having trained as a midwife, Naea also has experience with reproductive healthcare and is trained to work with people who need support through pregnancy anxiety, postpartum life (depression, anxiety, OCD), pregnancy loss, and infertility.
Naea provides individual and family therapy for those seeking to increase their overall wellness, and believes mental health counseling can be an important component in creating lasting change. She uses a variety of treatment modalities, including Motivational Interviewing, Gestalt, Brief-Solution Focused, and Cognitive Behavioral Therapy. She strives to build a therapeutic relationship that allows clients to connect to their own internal source of inspiration and empowerment.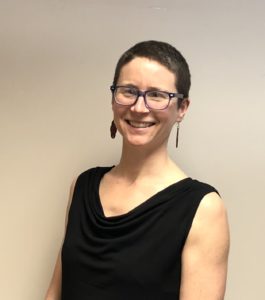 Julia McDonald, DO, MPH, Medical Director of Abortion Services (she/her/they/them)
Julia McDonald, DO, MPH is a full-spectrum physician in central Maine. In her principal role as faculty at the Maine Dartmouth Family Medicine Residency, she offers primary care for all ages, obstetrics, hospital medicine, addiction treatment, and reproductive health care. Dr. McDonald is working on many fronts to ensure ongoing and future access to safe and legal reproductive health care. As Medical Director of Abortion Services at Mabel Wadsworth Center, she enjoys offering direct patient care while working to expand services and training opportunities. As a fellow with the Physicians for Reproductive Health Leadership Training Academy from 2016-2017, Dr. McDonald had the opportunity to deepen her advocacy efforts as a physician. And, as Chair of Maine's SAFE Fund, she is dedicated to decreasing financial barriers to accessing abortion. Dr. McDonald also serves on the Board of Directors of the National Abortion Federation. A longtime political activist and women's health advocate, Dr. McDonald initially studied Dance and Theatre at Colby College, but turned to medicine during a profound experience in Peace Corps Morocco. She completed medical school at UNECOM, concurrently serving on the national Medical Students for Choice Board of Directors, before completing her training at the Greater Lawrence Family Medicine Residency (MA).
Medical Director & Physician
Our Medical Director is a licensed, board-certified physician who specializes in Obstetrics & Gynecology with many years of direct patient care experience.