Health Care Providers
Terry Marley-DeRosier, WHNP, Co-founder
Terry is a Bangor native; she attended Bangor High School and received her RN from Eastern Maine Medical Center's School of Nursing in 1975. In 1979, she was hired by the local family planning program and was sent to California, where she earned her Women's Health Nurse Practitioner certification. Terry has been providing non-judgmental, client-centered, feminist health care ever since. Her clients are put in charge and in control of what happens during the clinical visit. Terry's willingness to listen and her caring approach have benefited thousands of women and their families throughout the State of Maine. In addition, Terry mentors local Nurse Practitioner students by welcoming students during their rotations or practicums. 
Lindsey Piper, WHNP
Lindsey has been working in the women's health field for 15 years and most recently as a women's health nurse practitioner at Mabel Wadsworth Center.  In addition to her work at the Center, she teaches and mentors midwifery students at Birthwise Midwifery School. Lindsey cares deeply about educating patients about their bodies so that they can make decisions that fit best with their lives and wellness goals.  In the past, she's worked helping folks experiencing domestic violence, sexual assault survivors, and folks seeking HIV and STI education, testing and treatment as well as with people seeking family planning services.  She has also worked in the community doing art as activism to raise awareness about these issues. When she isn't at work, she likes to spend time with her wife Allison and their two daughters.  They play outside in the garden a lot and enjoy meals with family and friends.  Lindsey also tries to find time for running and cycling and other such adventures.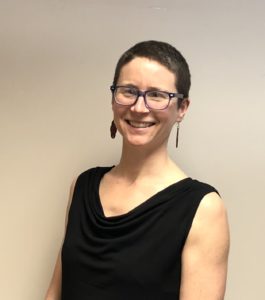 Julia McDonald, DO, MPH, Medical Director of Abortion Services
Julia McDonald, DO, MPH is a full-spectrum physician in central Maine. In her principal role as faculty at the Maine Dartmouth Family Medicine Residency, she offers primary care for all ages, obstetrics, hospital medicine, addiction treatment, and reproductive health care. Dr. McDonald is working on many fronts to ensure ongoing and future access to safe and legal reproductive health care. As Medical Director of Abortion Services at Mabel Wadsworth Center, she enjoys offering direct patient care while working to expand services and training opportunities. As a fellow with the Physicians for Reproductive Health Leadership Training Academy from 2016-2017, Dr. McDonald had the opportunity to deepen her advocacy efforts as a physician. And, as Chair of Maine's SAFE Fund, she is dedicated to decreasing financial barriers to accessing abortion. Dr. McDonald also serves on the Board of Directors of the National Abortion Federation. A longtime political activist and women's health advocate, Dr. McDonald initially studied Dance and Theatre at Colby College, but turned to medicine during a profound experience in Peace Corps Morocco. She completed medical school at UNECOM, concurrently serving on the national Medical Students for Choice Board of Directors, before completing her training at the Greater Lawrence Family Medicine Residency (MA).
Medical Director & Physician
Our Medical Director is a licensed, board-certified physician who specializes in Obstetrics & Gynecology with many years of direct patient care experience.