Almost half a century after Roe v. Wade, abortion rights still under attack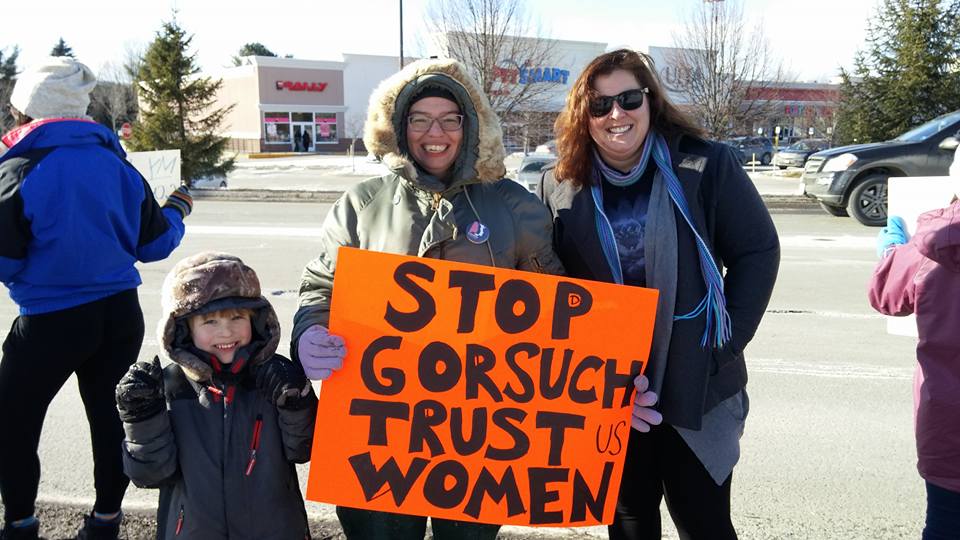 By Aislinn Canarr and Andrea Irwin, Special to the Bangor Daily News • 
Monday marks the 45th anniversary of the Supreme Court's landmark Roe v. Wade decision that legalized abortion in the U.S., a historic moment for women's advancement. Despite nearly a half century of legal precedent protecting and even expanding a woman's right to abortion, President Donald Trump is on a tear to nominate federal judges who will do whatever possible to dismantle this right.
This time last year, Trump nominated anti-abortion judge Neil Gorsuch to the Supreme Court, kicking off a flurry of similar, appointments to the judiciary, all poised to impact the constitutional landscape for decades to come.
The Trump slate is characterized by substantial evidence of opposition toward a woman's right to safe and legal abortion, and in some cases, even birth control.
For example, Kyle Duncan has actively opposed basic reproductive rights; he supported Texas' restrictions on abortion in Whole Woman's Health, the most important case since Roe, restrictions that the Supreme Court found burdened women and increased the number of unsafe, self-administered abortions.
Matthew Kacsmaryk's record is extremely hostile to women's health, including opposition to Roe as precedent and laws to protect birth control access.
Perhaps most troubling is Mark Norris, who has vigorously fought to harm women, even going as far as supporting a law to criminalize and impose felony charges on physicians who perform abortions.
Efforts to strip health coverage from millions of Americans, give personhood to fetuses, and other atrocities have kept public attention elsewhere, but we must remain vigilant about judges. When we emerge from the rubble of the Trump presidency, laws can be overturned but judges with lifetime appointments will make decisions that impact our children and grandchildren.
Trump, however, is not solely responsible. The Senate's — including Sen. Susan Collins — rubber stamping of the president's nominees is unacceptable and dangerous.
We were both born post-Roe and grew up with the privilege and security that entails. Brave and willing abortion providers treated us with respect and trusted us to know what was best for our own lives. We each had abortions, and today are stronger, healthier and happier than had we been forced to parent against our will. For one of us, and many of our peers, this includes being a happier parent now.
Our mothers' generation was forced into back alleys or flying out of the country, if they could afford it. Others lost their lives because of illegal, unsafe abortions. Those are dire stakes indeed.
Hundreds of women just like us come through the doors of Mabel Wadsworth Center each year to seek abortion care. Many are already parents and want to parent the children they already have. Others are in school or struggling to make ends meet and want to pursue education and career goals. Some are escaping abusive relationships or battling addiction.
The reasons don't matter, however, because women in 2018 deserve to have the right to decide when and whether to parent.
The decision to have an abortion is one of the most intimate, personal decisions a person can make. The only people who should be making decisions that impact our health and lives are our medical providers and us — not politicians nor judges.
Abortion is safe, legal and necessary. The judicially protected right to abortion and birth control has been essential to our generation's social and personal advancement. We will not go back.
We ask Collins and Sen. Angus King to commit to holding all judicial nominees to a standard of following precedent and protecting our constitutional rights. Any judicial nominee must be independent and able to separate personal beliefs from the rule of law as it applies to protecting women, people of color, LGBTQ people and others from discrimination and violence.
Trump's efforts to stack the judiciary with ideologically driven nominees must be stopped.
Aislinn Canarr is a board member and serves on the advocacy committee of Mabel Wadsworth Center in Bangor. Andrea Irwin is executive director of the Center.