Health Insurance 101
At Mabel Wadsworth Center, our interns are responsible for updating the bulletin board in our waiting room once a month. Past topics have included healthy relationships, safer sex, abortion stories and more. In case you didn't have the chance to visit us during the month of September, we've decided to put the bulletin board online as well. Enjoy this post by our fall intern, Meghan Frisard, a student at the University of Maine.
Health insurance is a super complicated topic, but something that every American needs to know about. There are a lot of sources of misinformation out there, and we are here to break down the key features of health insurance, and what Mainers need to know to make sure that their healthcare needs are covered!
Let's start with the basics. What is health insurance?
Health insurance is a system that individuals pay into that helps them pay for medical expenses. It is similar to car insurance, something people are often more familiar with that's a little less complicated; you pay a monthly car insurance bill even if you are a safe driver and have never been in an accident, and your car insurance company will then pay to fix your car if you get in an accident or crack your windshield. Similarly, you pay into your health insurance even when you are healthy, and then your insurance company covers your health services as you need them.The biggest difference is that car insurance companies do not pay for preventative maintenance, while most health insurance companies do!  They often cover preventative services (regular check-ups, pap smears, etc) because catching a problem early will almost always lead to a better outcome for you and less expenses for them, as opposed to having to cover long hospital stays or surgeries.
What is a premium? copay? A deductible? Coinsurance?
A premium is what you pay for insurance every month.
A deductible is what you pay for health services before your insurance kicks in and pays for services until you hit your maximum out of pocket amount.
A copay is a fixed amount that you pay for certain services, such as prescription drugs or doctors visits, until you hit your maximum out of pocket amount.
Coinsurance is a certain percentage of covered services that you will pay until you hit your maximum out of pocket amount.
Your maximum out of pocket amount is the maximum amount of money that you would pay for services in a year. Copays, coinsurance, and money paid towards your deductible all count towards this amount. Your monthly premiums, however, do not count towards this amount.
A lower premium will result in a lesser monthly bill, but low premiums often are paired with high deductibles, which means you will be paying more for services. Lower premiums also often have higher maximum out of pocket amounts.
If you have listened to, watched, or read any news media over the past 7 years, you have probably heard about The Affordable Care Act, also known as Obamacare. What is Obamacare?
The Affordable Care Act (ACA) is a major piece of legislation passed in 2010. Some of the key features of the ACA are:
required insurance companies to cover essential health benefits which include:

preventive care, hospitalization, maternity and newborn care, emergency-room care, and broader prescription drug coverage.

Required all Americans to have health insurance or face a tax penalty, and offered subsidies and expanded Medicaid for low-income Americans, to offset the costs of being required to have health insurance.

Allowed young people to stay on their parent's insurance until they are 26.

Prevented insurance companies from denying coverage based on preexisting conditions (such as diabetes, cancer, childbirth, or other common but expensive conditions)

Required insurance companies to charge women the same rates as men.

Prevented insurance companies from charging older consumers drastically more than younger consumers. Insurers cannot charge older consumers more than 3x the rate of younger consumers, but before the ACA older consumers were being charged as much as 10x more than younger consumers.

Required employers to offer adequate insurance to employees, and offered options for employees who could not afford the insurance offered by their employers
If you're already covered by insurance purchased from healthcare.gov as part of the ACA (Obamacare), you need to reapply each year, or you will lose coverage. Open enrollment for ACA Marketplace insurance begins November 1st, 2017 – December 15th, 2017.
Do you have (or want) private insurance from the ACA Marketplace, an employer, or elsewhere? What is the best option? What is an HMO? A PPO? EPO? POS?
All of these are different types of health insurance plans that offer you more or less flexibility in choosing the healthcare providers that you see. The terms "in-network" and "out-of-network" refer to the so-called network of providers that your insurance company has agreed to work with for your plan. If you choose a plan that only allows in-network providers, make sure that your provider is part of the network before you go in for a visit because otherwise your services may not be covered and you could get a large bill! This infographic from TakeCommandHealth shows the differences between different insurance plans, but make sure to read your own policy closely to see what services are covered.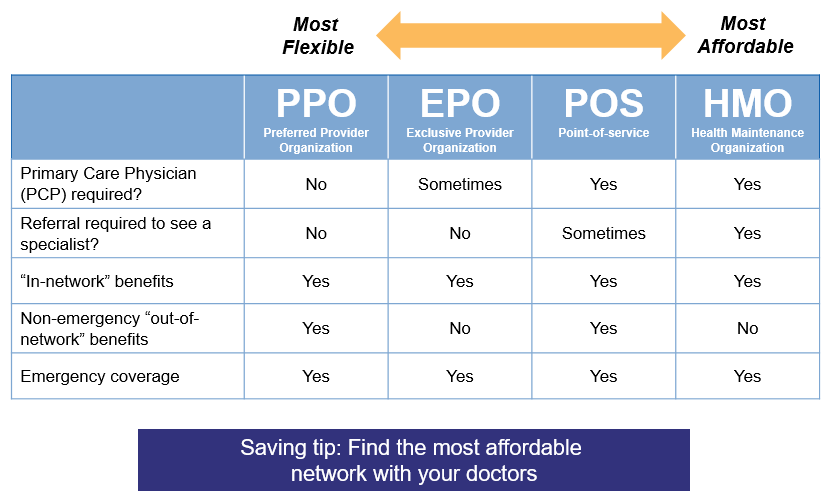 Some people in Maine have health insurance through MaineCare but may not know what it is. What is MaineCare?  Medicaid? Medicare?
Medicaid is government-funded health insurance for people who fit certain categories and are eligible based on income. In Maine, Medicaid is called MaineCare. What your MaineCare plan covers depends on age, family size, health care needs, and other variables. In terms of sexual and reproductive health, MaineCare covers ultrasounds, pap smears, mammograms (which you can get a referral for from Mabel's), pregnancy, and birth control. MaineCare does not cover abortion services, but Mabel's can help you find other ways to pay if you need an abortion and are covered by MaineCare. Check out this infographic from Maine Equal Justice Partners to see if you qualify for MaineCare. If you still have questions, you can call the Consumers for Affordable Health Care Help Line: 1-800-956-7476.
Medicare is a federally funded health insurance program for people who are 65 or older. Medicare has 4 parts: Part A (Hospital Insurance), Part B (Medical Insurance), Part C (Medicare Advantage Plans), and Part D (Prescription Drug Coverage).
Part A covers inpatient hospital care, and most people who are 65 or older get Part A for premium-free when they turn 65, but still are responsible for copayments, coinsurance, and deductibles.
Part B covers doctors visits, outpatient hospital services, and other medical visits. All people who are eligible get Part B and pay a deductible and a monthly premium.
Part C covers everything that A and B cover and most Part C plans also include prescription drug coverage (part D).
Part D covers the cost of prescription drugs. There are many Medicare Part D plans and each has a different amount and type of drugs that they cover, so make sure to look carefully at the medications you take to ensure that you select a plan that covers them.
If you have questions about Medicare, you can call the Eastern Area Agency on Aging: 1-800-432-7812.